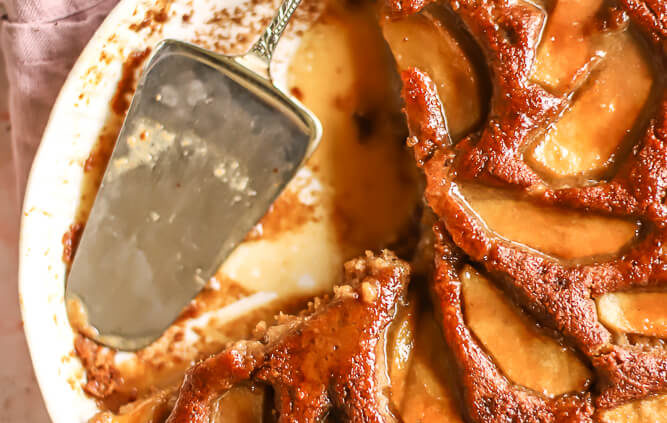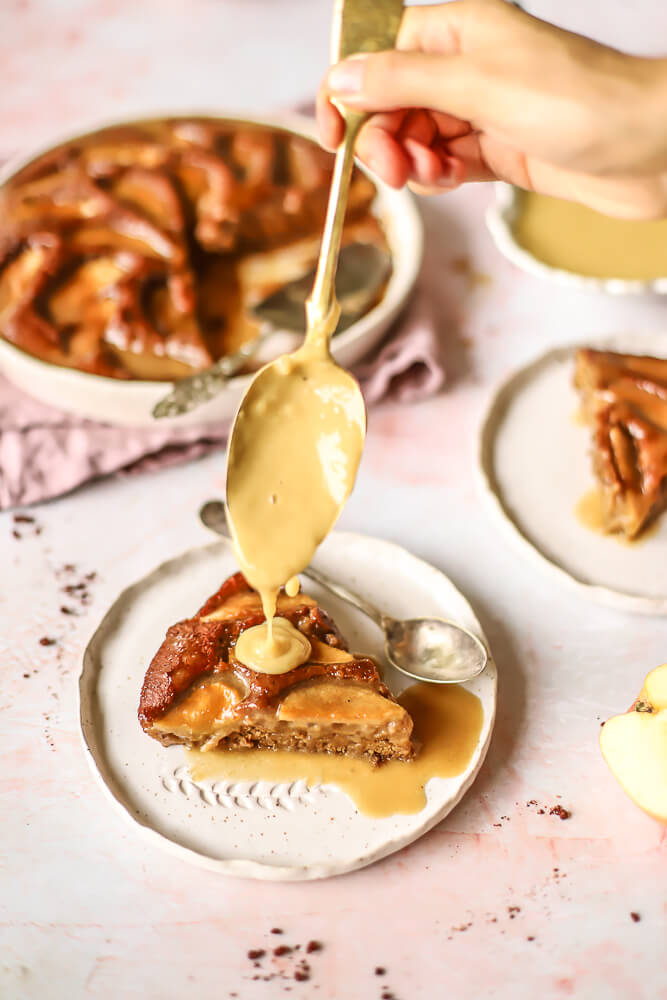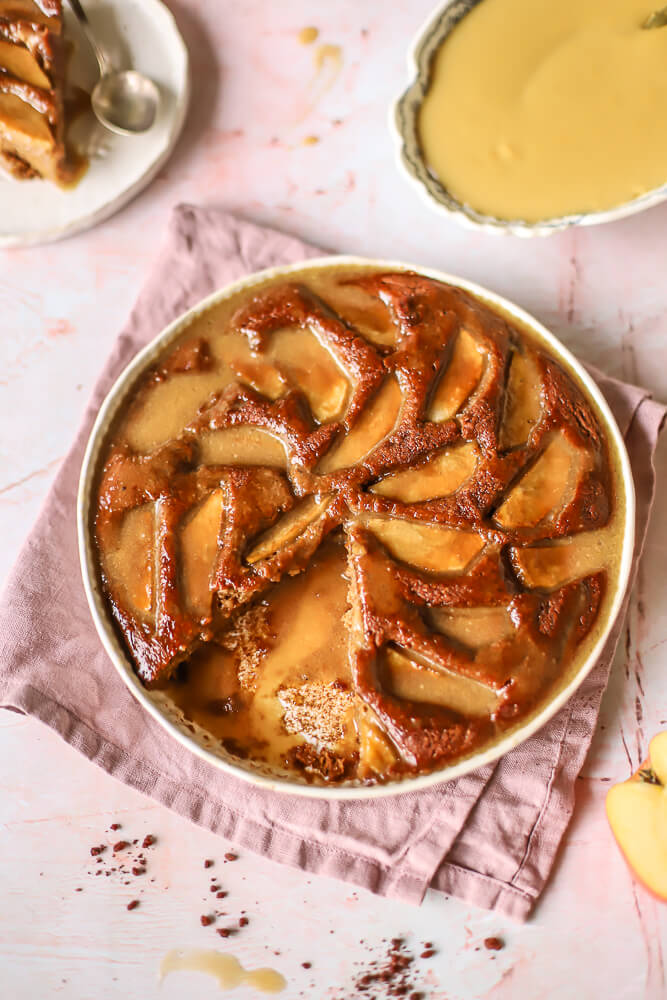 250g whole wheat flour
1/3 cup almond flour
1/2 cup coconut sugar or brown sugar 
1 1/2 tsp baking powder
pinch of salt
1/2 cup plant milk
1 tbsp apple cider vinegar
1 flax egg (1 heaped tbsp flaxseed meal with added water to thicken)
1 tbsp apricot jam
1/4 cup coconut oil
1 tsp vanilla extract
1 cup peeled and sliced apples (optional)
Butterscotch sauce
200 ml coconut cream or full-fat coconut milk
1/4 cup coconut sugar
1/2 cup vegan caramel (recipe on site-link in bio*) sub with golden syrup or sugar 
1 tsp vanilla essence
1/2 tsp corn starch or potato protein
Pinch of salt
1. Mix the flour, almond flour, baking powder, and salt then set aside.
2. Whisk the milk, apple cider vinegar, and vanilla essence. Let it curdle for a few minutes and then add the apricot jam, flax egg, and the melted coconut oil.
3. Mix the wet into the dry, add the baking soda and mix well, then smear a round tart base with coconut oil or non-cooking spray.
4. Pour the batter into the mold and decorate the top with the apples, smear with extra melted coconut oil and sprinkle on some extra coconut sugar.
5. Bake for 20 minutes until brown on top and then pour over the sauce after the pudding has cooled slightly.
6. Pour the sauce over little by little until the pudding has soaked it all up, serve the pudding lukewarm with vegan custard and ice cream.
Butterscotch sauce
1. Place all the sauce ingredients in a saucepan and bring to a simmer until the sauce starts to thicken slightly.
2. Keep lukewarm until the pudding has baked and pour the sauce on top.
3. Set a little bit of the sauce on the side for serving.
https://lifeinthesouth.co/wp-content/uploads/2022/04/IMG_0979.jpg
1000
667
Mariza Ebersohn
https://lifeinthesouth.co/wp-content/uploads/2022/04/Life-in-the-South-Final-Logo-Grey-HD-1.png
Mariza Ebersohn
2022-04-24 11:56:35
2023-03-26 13:57:02
Apple butterscotch malva puddding