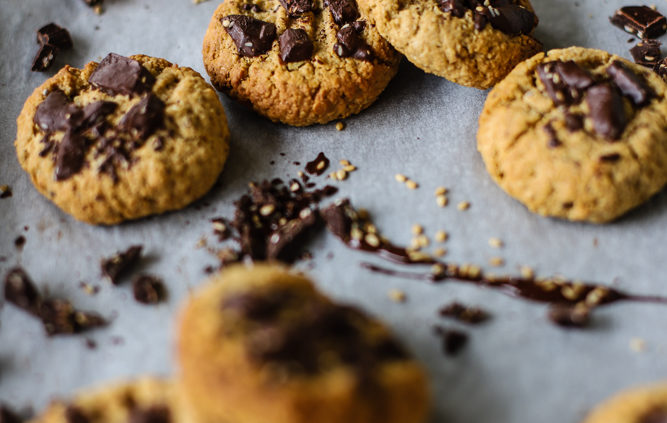 Ginger chocolate oat cookies, I have been trying to find a name for the subtle spiced cookies. They are a mix between chocolate chip and festive ginger cookies, a phoenix you might call them. They are delightfully light, chewy and sweet. Christmas cookies are stressing me out for real, making beautiful cookies takes a lot of patience and loads of percision that is for sure! I have made two batches and the cookies came out all right, but the frosting is nothing to write home about! That's where the true artist comes out…
Ginger chocolate oat cookies, I have been trying to find a name for the subtle spiced cookies. They are a mix between chocolate chip and festive ginger cookies, a phoenix you might call them. They are delightfully light, chewy and sweet. Christmas cookies are stressing me out for real, making beautiful cookies takes a lot of patience and loads of percision that is for sure! I have made two batches and the cookies came out all right, but the frosting is nothing to write home about! That's where the true artist comes out…
I love a good chewy cookie and have been on the search for the perfect chocolate chip (like everyone always is). The perfect cookie differs from one person to the next. Some like a cookie very dry and crumbly (like my son, the crumbles are the evidence) and others like them chewy, dense, low carb, low sugar, crunchy. You name it, there is a cookie out there for you! I love making my own batches just to see how they come out, and I am daily inspired by my own upbringing to recreate the cookies my mother makes "healthy".
I have gotten around to making some of them, but there is a pretty long list you know and only so much space to eat everything. I have to keep a balanced house you know and eating cookies for basically every meal, treat and dessert can become somewhat overbearing. My husband doesn't want me to be stressed out, and a cookie overload always is a telling sign of something is up. It's my therapy. He understands mostly, but there is a point where the I need to step away from the kitchen and have some adult conversation, lol!
It's not easy being a stay at home mom, especially so far away from home. But you make due and baking has been my bestie these last five years. Apart from cookie baking, I have been wondering what kind of Christmas gifts are in order this year. The gifts have always been a struggle because I love giving gifts and receiving them and my other half is not so into receiving or giving gifts. So there is a point where you give up, or do you just continue to love what you do even though it's not really shared? He has gotten better over the years, but now with our son, we kind of just want to spoil him and worry less about ourselves.
So yes reflecting in retrospect, Christmas is a wonderful time of the year. Magical, full of love family, overeating, sometimes drama and a whole lot of spice that you never want to eat any other time of the year. And it should be celebrated any way that you can. Every day, every year should and we kind of forget it and are reminded in times like these to just be present. Bake cookies, eat them with the ones you love even if they are a hot mess, so what!
Here are some of my favorite cookie recipes you might like:
1 cup oats
1/2 cup almond flour
1/2 cup quinoa flour (sub with any other gluten-free of wholewheat flour)
1/3 cup coconut sugar
1 tsp baking powder
1 1/2 tsp ginger powder
1/2 tsp cinnamon
1/2 tsp salt
1 tsp vanilla essence
1/4 cup maple syrup
1/4 cup flax seed flour and 1/3 cup water
1/3 cup almond milk
1/3 cup chopped sesame chocolate (or any other chocolate you prefer)
1/4 cup toasted sesame seeds
Preheat oven to 175 degrees Celcius.
Mix together all the dry ingredients and then set aside (blend half of the oats into flour to make these cookies more smooth and less crumbly) .
Mix together the milk, vanilla essence, maple syrup and the flax egg.
Mix the wet into the dry and then let it sit for a few minutes before rolling the dough into balls and pressing flat with a fork on to a parchment paper lined baking tray.
Press the chopped chocolate on to the cookies and sprinkle with toasted sesame seeds.
Bake for 10-12 minutes until brown and remove to cool on a wire rack.
Store in a cool dry place for up to two weeks.
These cookies freeze also really well, so you can make the dough, freeze and whenever you want to bake just let it defrost overnight and then roll and bake the next day!
https://lifeinthesouth.co/wp-content/uploads/2018/11/IMG_6960.jpg
1000
667
Mariza Ebersohn
https://lifeinthesouth.co/wp-content/uploads/2022/04/Life-in-the-South-Final-Logo-Grey-HD-1.png
Mariza Ebersohn
2018-12-05 10:36:24
2022-03-08 13:43:38
Ginger chocolate oat cookies