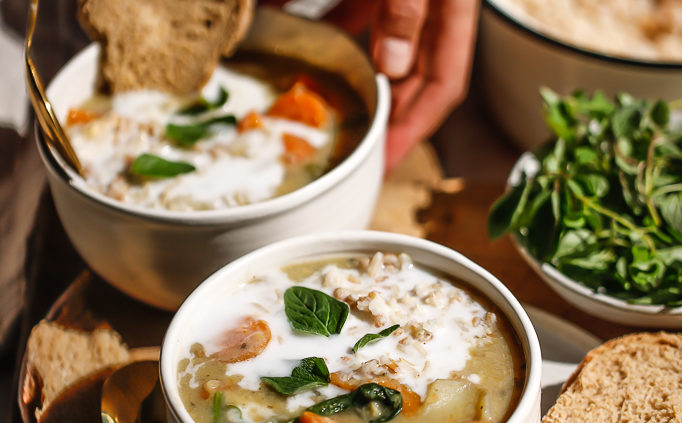 1 small red onion 
1/2 cup diced celery 
1 cup chopped carrots 
1 cup cooked chickpeas 
1/2 cup dry coral lentils 
1 1/2 cup diced potatoes 
4 cups vegetable stock 
1 tbsp corn starch mixed with water to make a paste 
1 tbsp soy sauce 
salt and pepper taste 
olive oil 
1 tsp dried oregano 
1 tsp dried thyme 
1 tsp dried basil flakes 
1-2 crushed garlic flakes 
brown rice to serve 
2 cups baby spinach leaves 
400ml coconut milk  
bread to serve 
Heat up a big pot to cook the soup in, or make use of an Instant pot and place the setting to sauté for 15 minutes. 
Add a generous dollop of olive oil, add in the spices, garlic and the onion and sauté until brown. Add the rest of the dry ingredients and sauté for a few minutes more. 
Add in the stock, corn starch paste and some of the coconut milk. 
Slow cook the soup for about 20-30 minutes until the carrots and potatoes are soft,
Lastly stir in the baby spinach leaves until wilted, serve the soup with the brown rice, toasted bread and extra coconut milk. 
https://lifeinthesouth.co/wp-content/uploads/2022/05/MG_6154.jpg
1023
682
Mariza Ebersohn
https://lifeinthesouth.co/wp-content/uploads/2022/04/Life-in-the-South-Final-Logo-Grey-HD-1.png
Mariza Ebersohn
2022-05-24 13:17:51
2022-05-24 13:28:29
Vegan "chicken" rice soup