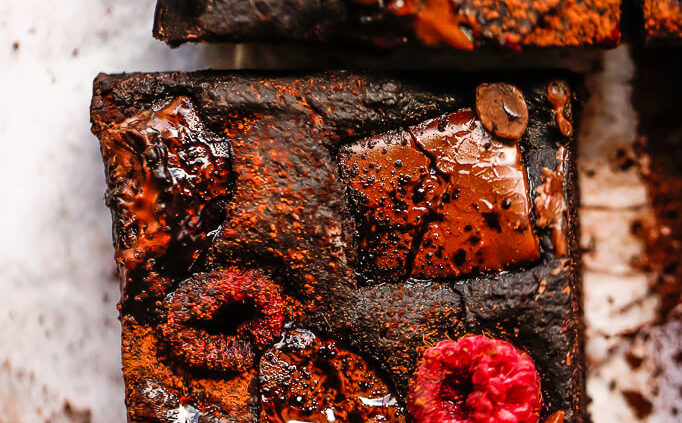 2 tbsp flaxseed meal or chia meal
• 11/2 cup self rising flour mix (sub with oat flour)
• 1/4 cup Biogen protein powder
• 1⁄4 tsp baking soda
• 100 g 70% cocoa dark chocolate
• 1/3 cup cacao powder
• 1 tsp instant coffee (optional)
• 1⁄2 tsp salt
• 1/3 cup + 1 tbsp boiling water
• 1 heaped cup sugar
• 1⁄4 cup + 2 tbsp melted coconut oil
• 100 g fresh raspberries
Prepare chia or flax eggs by mixing ground up seeds with 3 tbsp of water in a small bowl. Set
aside to activate. Pre-heat the oven to 180° C
 Line a 20 cm x 20 cm baking tin with baking parchment. Make the baking parchment stick out
of the tin so that you're able to remove the brownies from the tin a little easier.
 Weigh your flour, protein powder, add baking soda and whisk the two together with a spatula.
Set aside. Boil a kettle of water. While the water is boiling, chop your chocolate very finely. Put
it into a big mixing bowl, with cocao powder, instant coffee (if using) and salt.
Stir well.Pour 100 ml / 1/3 cup + 1 tbsp boiling water into the chocolate, cacao powder and
salt mixture. Stir with a spoon so that chocolate melts in the hot liquid. Don't add any more
water. Add in the sugar, flax egg (by this time it should have turned all sticky) and the coconut
oil.
Using a hand mixer, blend the mixture until it's smooth. It's time to add the flour and baking
soda mixture. Add a little at a time and stir it into the chocolate mixture with a spoon. Do not
be tempted to use an electric mixer as it will overwork the batter. Stir just enough until there
are no flour pockets anymore, but no more than that. The batter will be super thick so you
may need to use your hands towards the end.
Transfer the batter into the prepared baking tin. Smooth it with a spatula and decorate with
fresh raspberries and more chocolate.
Bake on the middle shelf for about 22-24 minutes (depending on how gooey you like your
brownies and on your oven). If you like to keep them gooey, stick them in the fridge once cool
and they will become deliciously fudgy after a few hours.
https://lifeinthesouth.co/wp-content/uploads/2022/04/MG_4847.jpg
1023
682
Mariza Ebersohn
https://lifeinthesouth.co/wp-content/uploads/2022/04/Life-in-the-South-Final-Logo-Grey-HD-1.png
Mariza Ebersohn
2022-06-02 15:15:16
2022-06-02 15:19:53
Raspberry protein brownies