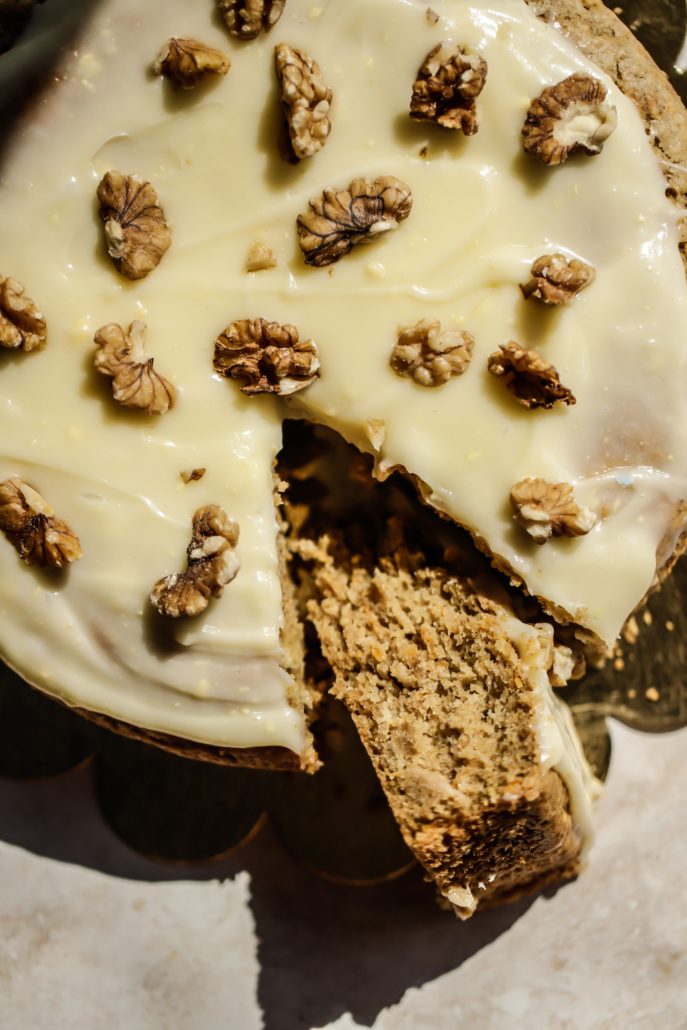 2 cups self rising flour sub half with either rye, wholewheat or oat flour
1/2 cup almond flour
1 tsp Baking Powder
1 tsp Baking Soda
½ tsp Salt
1 tsp Cinnamon
1 tsp Nutmeg
1 ½ cups coconut Sugar
2 ⅓ cups Grated Carrot
1 Flax Egg (a Tbsp Ground Flaxseed Meal with 3 Tbsp Water)
½ cup Canola Oil (120ml) or olive oil
1/2 cup plant milk
1 medium over ripe mashed banana or apple puree
1 tsp Vanilla Extract
1 Tbsp Apple Cider Vinegar
1 cup Walnuts (100g) Chopped, Optional (sub with pecans)
Cashew cream cheese frosting:
2 cups raw cashews, pre-soaked, rinsed, and drained (sub with coconut cream- not set) sub with a tub vegan cream cheese @woolworths_sa
1-2 cups icing sugar
1 1/2 teaspoon lemon juice
1–2 teaspoons vanilla extract
pinch of salt
1–3 tablespoons coconut milk, if needed.
1. Preheat oven to 180 degrees Celsius . Generously grease cake pan and dust the cake pan with some flour.
2. Stir together milk and vinegar in a small glass bowl. Let curdle while preparing the rest of the batter.
3. In a large mixing bowl, combine flour(s), sugar, baking powder/soda, cinnamon, nitmeg and salt. Stir in sour milk and oil, mixing just until combined. Fold in grated carrots, apple puree or mashed banana, and nuts.
4. Pour batter evenly into the cake pan and place into the preheated oven.
Bake for 18–25 minutes, just until the center is set and a toothpick inserted comes out mostly clean.
4. Remove from the oven and let the pan cool fully before inverting cake onto a wire rack to continue to cool.
5. Allow cooling completely before frosting. Here you can make the cake the night before and store it in an airtight container.
6. Blend together the frosting and pour over the cooled cake (depending on consistency) add more walnuts in top.
https://lifeinthesouth.co/wp-content/uploads/2022/09/MG_7092-min-scaled.jpg
2560
1707
Mariza Ebersohn
https://lifeinthesouth.co/wp-content/uploads/2022/04/Life-in-the-South-Final-Logo-Grey-HD-1.png
Mariza Ebersohn
2022-09-18 12:18:44
2022-09-18 12:22:49
One bowl carrot cake