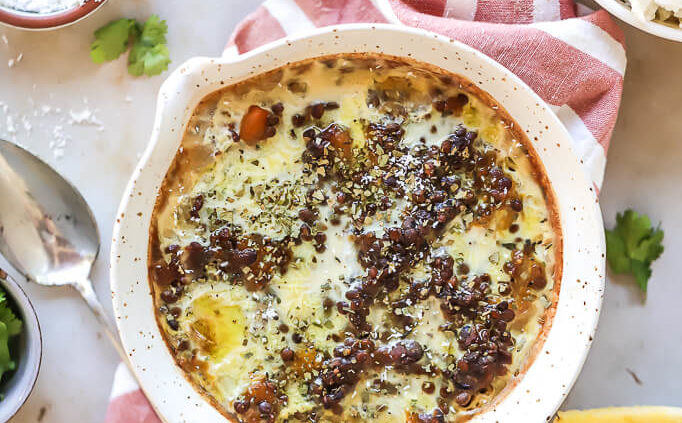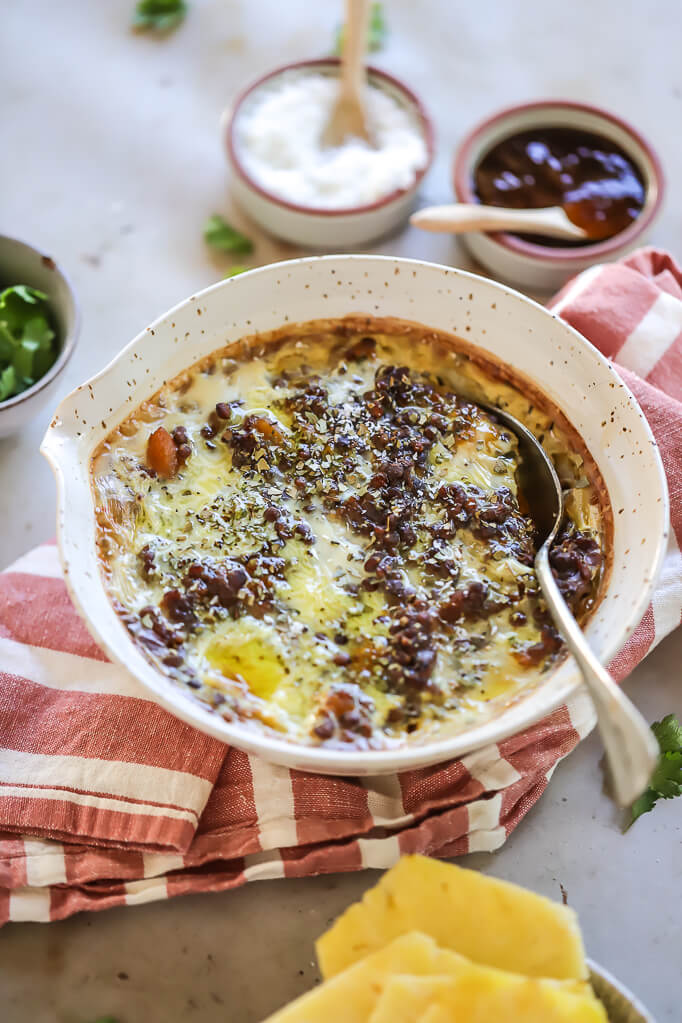 2 cups canned/freshly cooked brown lentils (drained)
1 small red onion diced
1/4 cup chopped red or yellow pepper
1 cup cooked or frozen butternut or any other soft pumpkin
1/4 cup chopped dried apricots
1 tbsp apple cider vinegar
1 heaped tbsp good quality or homemade apricot jam or chutney
2 cups vegetable stock
1 1/4 tsp Ras el Hanout curry spice
1/2 tsp turmeric
1/2 tsp mustard seeds
1-2 garlic cloves or 1/2 tsp garlic flakes
1 tbsp tomato puree
salt and pepper to taste
Olive oil for frying

"Egg" topping
2 tbsp cornstarch
1 coconut cream
1/3 cup plant milk
2-3 bay leaves
1/3 tsp turmeric powder
1/4 tsp salt
1/4 cup pine nuts
Chili flakes (optional)
Preheat the oven to 175 degrees Celsius. Slice the red onion and red pepper, and fry in the olive oil, add the garlic, curry spices and the mustard seeds. 
Fry until fragrant and then add the lentils and pumpkin, and cook until soft; halfway through add the apple cider vinegar, apricot jam, and tomato puree.
Lastly, add the dried apricots and vegetable stock, let it simmer, and then scoop into an ovenproof dish. 
Mix the "egg" topping and pour onto the bobotie, sprinkle over the pine nuts, and top with bay leaves. 
Bake for 15 to 20 minutes until golden brown. Serve with fluffy rice, sliced banana, chutney, and shredded coconut.
https://lifeinthesouth.co/wp-content/uploads/2022/04/IMG_4402.jpg
1023
682
Mariza Ebersohn
https://lifeinthesouth.co/wp-content/uploads/2022/04/Life-in-the-South-Final-Logo-Grey-HD-1.png
Mariza Ebersohn
2022-06-02 14:59:29
2022-09-18 11:49:56
Lentil bobotie