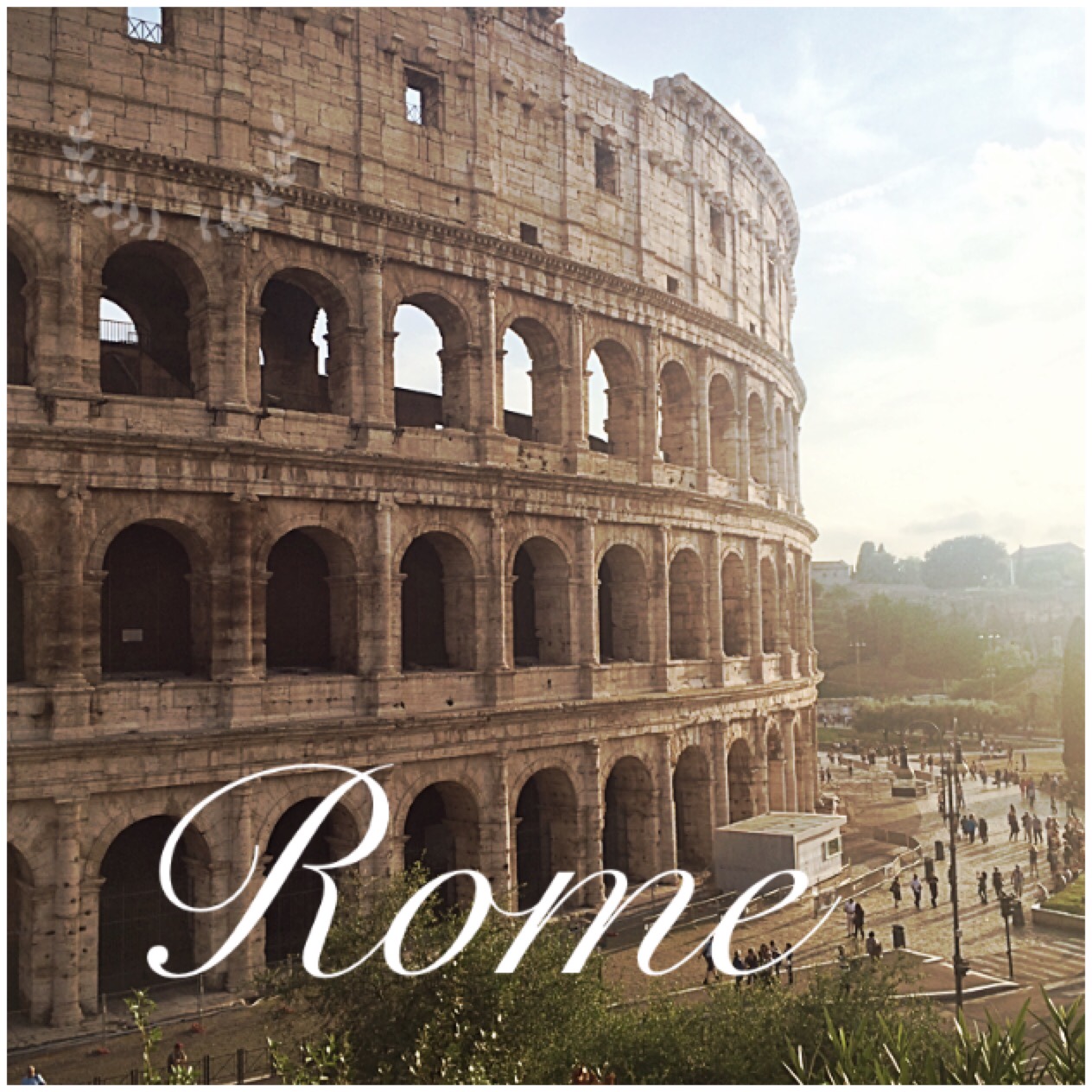 Italy… what a place. Some would laugh as I try, to sum up, this glorious country within only four travel days, well I can't. I won't even try because it I would not do it justice!
Italy is def within my top three places to see. I haven't walked and ate so much in a while, but it was all worth it. I drank Spritz, Limoncello and red wine. I ate pasta, pizza, and tiramisu. I was bedazzled by the Italian charm and intrigued by their history and culture. Overwhelmed by the beauty and smothered by uncountable amounts of tourists. All as it should be, though. I was prepared. So I thought…
 I was bedazzled by the Italian charm and intrigued by their history and culture.
Day 1: We took our first flight at twelve from Marseille airport towards Rome. We left our car at the long stay parking in Marseilles, which worked perfectly. It was an hour and a half's flight with some serious turbulence. Thereafter a 30-minute train ride from the airport, towards the metro station.  We arrived around Three in the afternoon at out hotel, The Sante Maria Hotel. The location was just perfect because we were situated in between the Vatican and the Colosseum. I freshened up and grabbed my backpack and I was ready to see the Colosseum. The tram stations are very much alike that of Paris. Busy and hot. I am always aware because without you knowing something might go missing really quickly.
When we arrived I was overwhelmed by the magnitude of this monument. Funnily enough, we didn't plan to have a tour here, but we were blindsided by the tour sales personnel. The tour took us 45 minutes, but we were ready for some dinner half way through. Who wants to be stuck in a tour when you've just arrived in Italy!! Relaxation mode kicked in once we arrived back to out hotel room and I got ready for our reservation at Prisco restaurant. The raving reviews on trip advisor certainly didn't disappoint. We had pasta with crushed tomatoes and basil for entreé, baked tuna and veggies for me and a gourmet burger for the hubs with red wine.
Arrival in Venice. I somehow imagined it to be like the movie The tourist. Taxi boats as the only way of getting around to your five-star hotel…We had to walk up stairs and down stairs towards our hotel. There were water taxi's to take, but they can be very expensive. So we walked. When we arrived at our "Hotel"(a side door along with a shady ally)I was a bit concerned, but nothing could beat the places that we have slept in so far right… Some things were questionable I admit, like the fact that there was only wi-fi in the reception area (which was two by two), and with the added bonus that we have been upgraded to the honeymoon suite. Venice is very expensive because there is no place like it. But let me be clear I did not care, I was in Venice!!
Day 5: Departure day. We got good nights sleep in and were ready for the last day of sightseeing. Venice is beautiful and full of little nooks and crannies. We got lost a couple of times and by that I mean maybe more than five times. We walked towards St Mark Square but did not have the courage to stand in the massive line, but we did take a selfie and a vid.
Also, we browsed through Piazza San Marco's endless amounts of stores. Some sell glass jewelry, other sell Venecian masks and around every nook, you'll find a gelato shop. This area is very touristy. The architecture of Venice is just crazy, it's a city on water. That just blows my mind! We then headed towards our hotel to retrieved our bags, took a bus and waited till we could fly back to Marseille. We arrived at ten pm and then it was another hour and a half's drive back home… Home sweet home. But I'll never forget our Four amazing days spent in Italy.
Watch the full video HERE.
Day 2: We breakfast quite early to be on time for our Vatican tour that started at 9 am. Enjoy Rome, this tour was very professional and so detailed orientated. I loved it! The tour was for three hours which was strenuous on "tranquil" travelers like me and my husband. Around the Vatican, there are restaurants by the thousands and therefore very expensive. We walked past a quite little street and was bombarded by this old Italian gentleman. The service and our departure were just as quick as our meal order.
After lunch, we discovered a beautiful street to have lunch in… So instead we took pictures. That is the thing about traveling to a new destination. You think that one place is as good as it gets until you turn a corner and voila there is a new square with more awesome restaurants. We hurried back to the hotel and made our way to the train station to leave to Florence. When we arrived in Florence I just felt so calm. I was bedazzled by this city. We stayed in the cutest Airbnb bachelor's flat, everything was perfect except for the fact that there was a bar right underneath our window. We ate a fantastic dinner at La Bussola restaurant and later I slept with toilet paper rolled up in my ears from all the noise, it kinda did the trick. I just had to be ready for our hiking the next day…
Day 3: Oh what a day, it started with a bowl of corn flakes. We got on a bus with Walkabout tours and drove two hours towards Cinque Terres. What makes Cinque Terres so unique is the fact that they are five fishermen's villages not too far from each other that are painted in different colors for the fishermen to identify their houses when they should head back to shore. This tour started out great, explanations were given of every city and village that we drove through. We started our day trip at the second town called, Manarola. From there we took a train to the second town, Corniglia. We had Pesto pasta for lunch at a spot before we started with our five km hike. With white All Stars this hike was not the easiest(seriously have to get me some hiking shoes), but we made it uphill within an hour.
The view was gorgeous when we arrived in Vernazza and I certainly wanted to have treated and some rest after that long walk. Coffee and cinnamon gelato did the trick…while we overlooked the beautiful little beach. We took another train to town number five Monterosso and there I drank a glass of the famous citron liqueur called, Limoncello.
A Boat took us to town number one, Riomaggiore. This town had the most beautiful view of the sea, it was so breathtaking and here I could clearly see why Cinq terres is so special. Here we had dinner, sliced beef on rocket leaves with parmesan and balsamic drizzle. I seriously could no walk anymore, the day had gone by so fast. It was a day well done and everyone slept on the bus all the way back to Florence.
Day 4: I seriously craved a good brekkie and was delighted to find Le Vespe cafe. They have a variety of smoothies and vegetarian, gluten-free dishes to choose from. I had an Americano with muesli and fruit bowl. Whereas my husband went for the very greasy, but delicious of course flapjacks, sausage and bacon combo. It was amazing…It's so hard to explain, but in Europe finding what you are accustomed to liking back in SA is really hard. There is no Mug and bean, no Wimpy and certainly no Wollies food. Especially when traveling! Be prepared people.
We spent the rest of the day walking around and we were too tired to go and see some of the landmarks in Florence. I am regretting the fact that I didn't get to see more of te City that I liked best in Italy. Luckily I bought a leather handbag. Florence is known for their leather and there are so many options to choose from. We took a rest on the train that afternoon towards Venice.
https://lifeinthesouth.co/wp-content/uploads/2017/01/IMG_0196.jpg
1264
1264
Mariza Ebersohn
https://lifeinthesouth.co/wp-content/uploads/2022/04/Life-in-the-South-Final-Logo-Grey-HD-1.png
Mariza Ebersohn
2017-01-03 10:57:16
2022-04-21 09:11:57
Traveling Italy