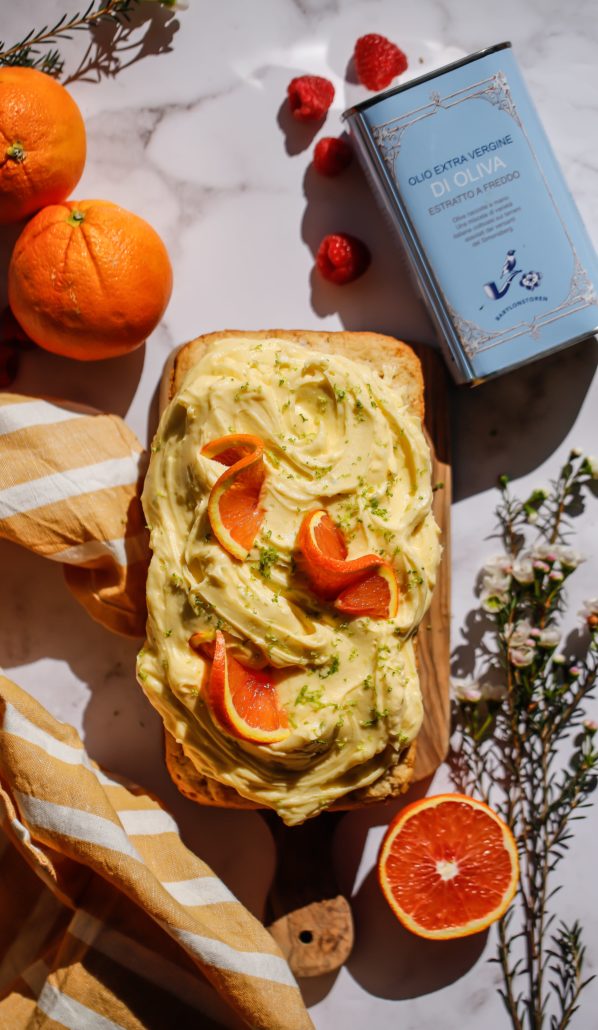 2 1/4 cups self rising flour
1/4 cup almond flour
1 1⁄4 cups white or brown sugar
3 teaspoons baking powder
Pinch of any good quality salt, optional
1 cup (250g) soy, oat or coconut milk
1⁄2 cup (125g) extra virgin olive oil @babylonstoren
1⁄3 cup (80g) lemon, lime or orange juice and zest (about 2-3 lemons)
1 teaspoon vanilla extract
Frosting
250g soft margarine
2-3 cups icing sugar
1-2 tbsp lemon juice
1-2 tbsp lemon zest
1 tsp vanilla extract
1. Preheat your oven to 180°C. Line a bread loaf tin with parchment paper or spray with nonstick spray.
3. Add all the dry ingredients (flour, sugar, baking powder, and salt) to a large mixing bowl.
5. Mix until there are no lumps. Add all the wet ingredients (milk, oil, lemon juice/zest, and vanilla)
and mix until smooth.
6. Pour the lemon cake batter into your prepared loaf tin. Smooth the surface if necessary, and tap the
bottom of the table a few times.
7. Bake the cake for 1 hour or until you can poke a skewer in the middle and there's no wet batter on it. As this is a moist cake, some crumbs on your skewer are fine.
8. Allow the cake to cool in the loaf tin for 10 minutes then cool on a wire rack.
Frosting 
1. Whisk all of the icing ingredients until smooth. Frost the loaf and add more lemon or lime zest on top and freshly sliced citrus.
https://lifeinthesouth.co/wp-content/uploads/2022/09/MG_0506-min-scaled.jpg
2560
1707
Mariza Ebersohn
https://lifeinthesouth.co/wp-content/uploads/2022/04/Life-in-the-South-Final-Logo-Grey-HD-1.png
Mariza Ebersohn
2022-09-18 11:26:25
2022-09-18 11:32:32
Citrus olive oil cake