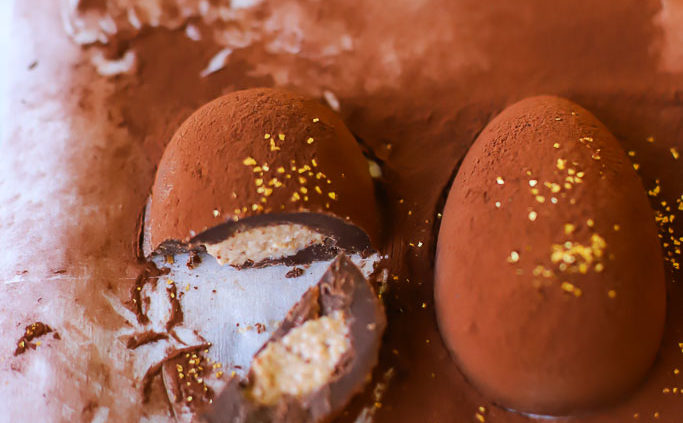 Nothing beats homemade, okay except Cadbury, but when you are vegan and the vegan chocolates out there are either super dark or seriously tasteless, then opting for homemade is the way to go! I collabed with one of the main superfood producers in SA , Soaring superfoods and they provided me with raw cocoa paste, which I think is just out of this world amazing! So if you're going to make chocolate eggs for Easter, you better do it right!
1/3  cup cacao butter
1/2  cup cacao paste
1 tbsp almond butter
1/3 cup coconut sugar
1/4 tsp salt
Almond Praline cream
1/2 cup almonds (I used almonds and pecans)
1/3 cup coconut blossom syrup
2/3 cup coconut cream
pinch of salt
Bring water to a boil in a saucepan, and place the cacao butter and cacao paste in a bowl, submerge a glass in the boiling water and place the bowl on top of the glass. (Here you are creating some kind of bain marie, so the cacao paste and cacao butter melts evenly).
Then blitz up the coconut sugar until it resembles icing sugar, here you can add superfood powders like maca, mesquite or baobab.
Once the cacao butter and the cacao paste have melted and have reached 42 degrees Celcius, remove and whisk in the almond butter, sugar, salt and whisk well, let the temperature come down to 28 degrees Celcius.
This step will take quite a while, around ten to fifteen minutes.
Reheat once again up until 31 degrees Celcius, remove and start by making the eggs.
Fill the eggs 1/3 of the way and swirl the chocolate around until the whole egg is fully covered.
Let the chocolate set in room temperature if possible and then scoop in the almond praline cream, then fill the eggs up to the brim and let them set in room temperature.
These eggs are now tempered so, you can store them in room temperature or wrap them up as a gift.
Notes: Be sure to add the almond praline cream in the center, not touching the sides.
Store in a cool dry place and consume within a week.
Almond praline cream
Preheat oven to 175 degrees Celcius, then place the almonds on a parchment lined baking tray and drizzle over the coconut blossom syrup.
Let them bake for 10 minutes until golden and remove to cool, once cooled, add into a food processor until they are fine and starts to resemble some kind of nut butter, and then add the coconut cream until combined and uber creamy.
Set aside and scoop one to one and a half tsp of cream into each egg.
https://lifeinthesouth.co/wp-content/uploads/2019/04/IMG_3396-1.jpg
1024
683
Mariza Ebersohn
https://lifeinthesouth.co/wp-content/uploads/2022/04/Life-in-the-South-Final-Logo-Grey-HD-1.png
Mariza Ebersohn
2019-04-16 19:21:09
2022-03-02 11:09:23
Almond praline chocolate eggs