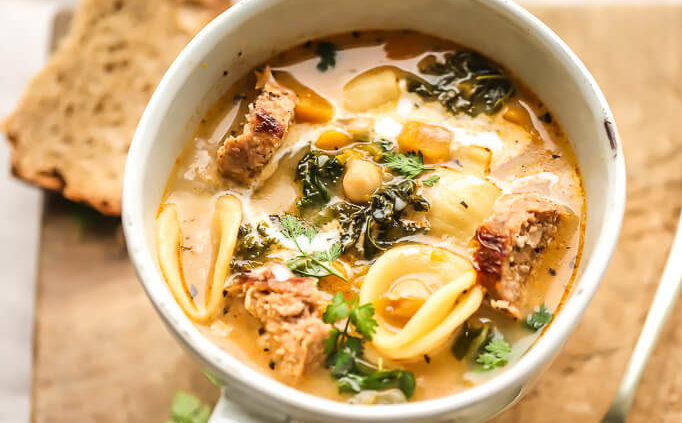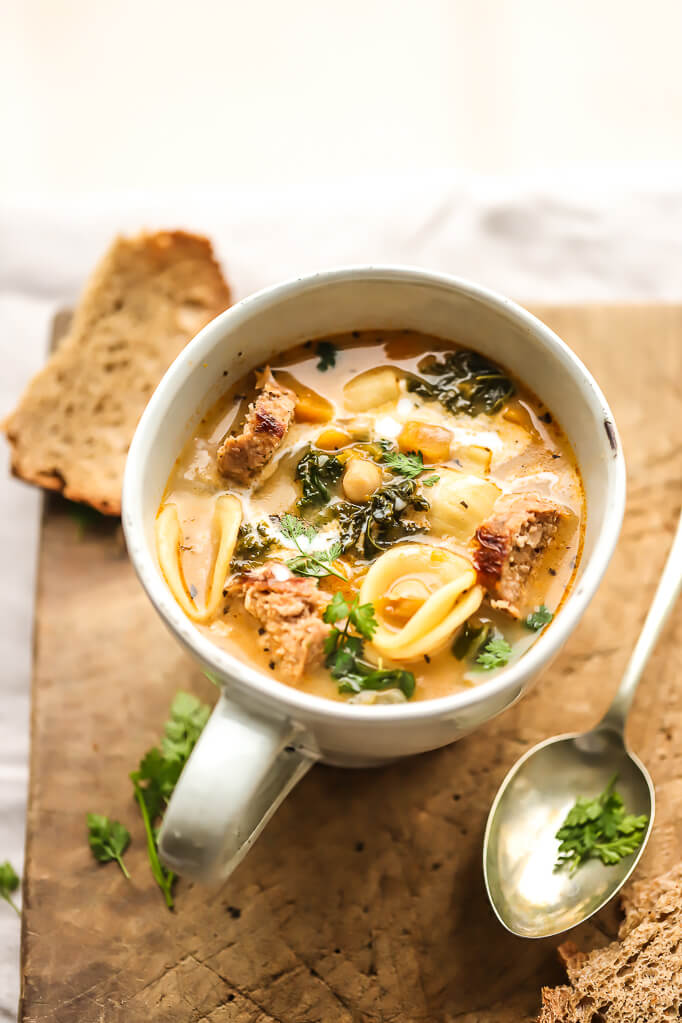 Ingredients 
* 1 small red onion diced
* 2 cups roasted butternut cubes
* 1 cup canned chickpeas
* 1 cup curly kale washed and diced (sub with baby spinach)
* 1/4 cup sun dried tomatoes finely diced
* 1 1/2 tsp dried oregano
* 1/2 tsp smoked paprika
* 1 tsp dried thyme
* 1-2 garlic cloves crushed
* 1/2- 3/4 cup dry orecchiette pasta (sub with pasta of choice)
* 1 cup low-fat or full-fat coconut milk
* 4 cups vegetable stock (more water if needed)
* 1-2 tbsp olive oil
* salt and pepper to taste
* 1/2 cup vegan sausage fried and sliced (optional) 
* extra coconut milk or cream
* bread to serve
* Fresh herbs to serve
Method
1. Heat the oil in a big cast iron pot or any pot to hold the soup servings for 4-6 people, add in 1-2 tbsp olive oil and add the red onion, fry until translucent, and then add in the garlic and the rest of the herbs, along with the diced red onion.
2. Once brown and flavourful, add in the rest of the ingredients except the vegan sausage, coconut milk, and kale. Bring to a simmer for 15 minutes on medium before lowering the heat to low and adding the coconut milk and the diced kale.
3. Let it simmer for 5 minutes or so before serving with the fried vegan sausage bits, extra coconut milk, fresh bread, and fresh herbs.
https://lifeinthesouth.co/wp-content/uploads/2022/04/IMG_6880.jpg
1023
682
Mariza Ebersohn
https://lifeinthesouth.co/wp-content/uploads/2022/04/Life-in-the-South-Final-Logo-Grey-HD-1.png
Mariza Ebersohn
2022-04-24 12:26:35
2022-04-24 12:41:21
Vegetable pasta soup