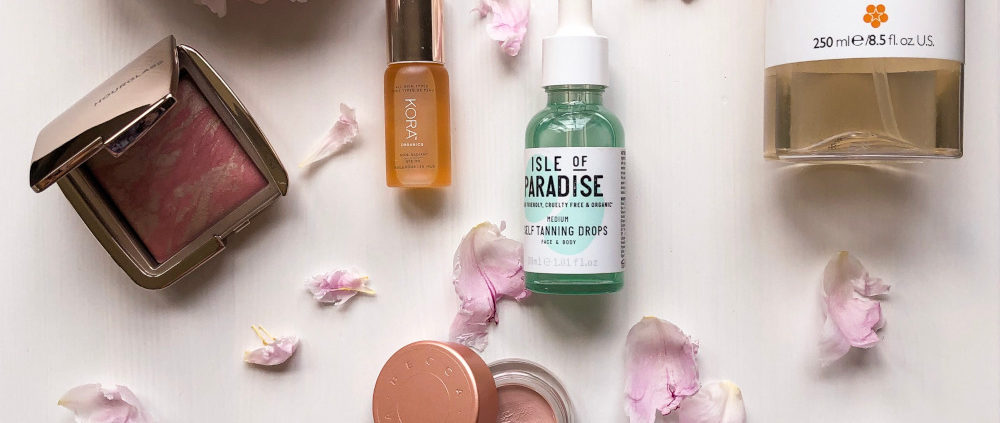 Top cruelty-free makeup and face regime introduced by the talented Lanese Kemp from The Gooseberry blog. She had laid out from start to finish how she maintains that glow, whilst being a mother and without hurting the environment. Now all of the above sounds like a win to me!
Top cruelty-free makeup and face regime introduced by the talented Lanese Kemp from The Gooseberry blog. She had laid out from start to finish how she maintains that glow, whilst being a mother and without hurting the environment. Now all of the above sounds like a win to me!
One step at a time, and by starting to include more animal cruelty-free products in my daily routine sounded like a great idea to me! I mean who doesn't love bunnies right?
Hi guys
I'm Lanese from The Gooseberry Blog. I'm also from South-Africa, like Mariza, but currently living in Germany with my husband and our 5 year old son. I enjoy sharing our travel adventures, my motherhood journey, love for fashion and any pretty finds on my blog and Instagram page.
When Mariza from asked me to do a guest blog post about my favorite animal cruelty-free products, I was so excited! I only started looking closely at the ingredients of skincare when Liam was born. I wanted to make sure I use clean products on his skin and with that I also became more aware of what I was putting on my skin every day.
I know animal cruelty-free products does not mean the ingredients are clean beauty, organic or natural but in order to make a change (to save animals and the environment) you have to start somewhere. Cruelty-free products tend to be more natural and have fewer chemicals. One step at a time, and by starting to include more animal cruelty-free products in my daily routine sounded like a great idea to me! I mean who doesn't love bunnies right?
With everything in my life I always try to find a balance and it's certainly not as easy as it sounds. The skincare and makeup products that I use aren't all animal cruelty-free, vegan or organic. This is still a work in progress for me. I have a very sensitive skin and I can breakout very easily if my skin doesn't like a certain product. I started to make small changes to my skincare routine. Changing one product at a time. It was and still is trial and error, trying to find what works for me.
I'm also a bit of a skin junkie. My skincare routine is something I look forward to every morning and evening. Some days I have more time than others but this is something I always make time for even if it's just a couple of minutes. It's a moment I have for myself, when I can relax while pampering my skin.
So today I will be sharing with you some of my most loved animal cruelty free skincare and makeup products that I discovered.
Kora Organics | Vegan | Cruelty-Free
My skin is in love with the Noni Glow range from Kora Organics. It instantly hydrates my skin and the hydration lasts all day. It feels fresh and clean on the skin and it gives my skin an extra glow without looking oily.
I use the following products:
Noni Glow Face Balm – A moisturizing balm that I use every morning and sometimes at night if I feel my skin needs extra hydration
Noni Glow Face Oil – I use this at night and sometimes I'll use this as a highlighter during the day
Noni Radiant Eye Oil – I use morning or night time, it's a great hydrator and easily applies with a roller ball applicator.
Kora Organics Citrus Mist Energizing – I sometimes use this before I apply my moisturizer and also during the day to refresh my skin.
They also recently brought out the Noni Glow Sleeping Mask and The Noni Bright Vitamin C Serum which I cannot what to try!
REN Clean Skincare | Cruelty-Free | A lot of their products are Vegan
Ren clean skincare is all about clean beauty free from harsh chemicals and toxins. Not only do they care about what you put on your skin but they also care about the environment with 100% recyclable packaging.
Products from REN that I use:
Ready steady Glow Daily AHA Tonic (Vegan) – My favorite exfoliation toner to date. A must have in my routine! I use retinol 2-3 nights per week and I always use this Glow Tonic the next morning to remove all the dead skin cells. It comes with a press down pump that makes it easy to use.
Clean Screen Mineral SPF 30 – Because I can break out easily I'm always worried to apply sunscreen to my face, but I finally found the SPF that works for my skin! It's a physical sunscreen which means that it doesn't absorb into the skin but instead it sits on top of the skin and then reflects the UV rays. Remember your neck, chest and hands!
With my recent purchase from REN I received this cute little cosmetic bag made from paper. Just LOVE this concept! They also filled it with loads of travel sized products that I look forward to testing out when we go on our next holiday.
The Ordinary | Animal Cruelty-Free | Most Products are Vegan
It's not only animal cruelty-free but I also love the price tag! It's very affordable and if you find the correct product for you skin it will work wonders.
I have a few products from The Ordinary that I use regularly but the two products that I enjoy using the most are the following:
100% Organic Cold-Pressed Rose Hip seed oil – Can be used in the morning or evening. I also put a few drops of this on my hands before I go to bed.
Hyaluronic Acid – I sometimes use this before moisturizing for hydration and plumping.
Spectrum Brushes | Vegan and Cruelty-Free
Some of the best brushes I've ever purchased. I bought this set 3 years ago and it's still working perfectly. All brushes are made from synthetic hair and the bristles are extremely soft.
Real Technique Brushes | Animal Cruelty-Free
Another great affordable option for animal cruelty-free brushes. Love the color concept that they use, I think it makes it so easy to use. I also enjoy watching their YouTube channel they have the best tips and tricks, you can check it out here.
Illamasqua | Vegan and Animal Cruelty-Free
I started using Illamasqua products a few years ago. Two products that I will purchase again and again.
Beyond Veil Primer – I love this primer! A little goes a long way. It's moisturizing and gives the skin a glowy finish. I use it just before I apply my foundation or if I don't wear any makeup this will be the last step of my skincare routine in the morning.
Brow and Lash Gel – The best brow gel that I've ever used. I promise you your brows will not move! If you have brows that goes all over the place during the day, then you have to try this product.
Hourglass | Animal Cruelty-free and completely Vegan by 2020
The Ambient Lightning Palette was my first purchase from Hourglass about 10 weeks ago. I've been blown away by it. It's so gorgeous and really makes the skin appear flawless. I apply this all over my face after my foundation and concealer.
I also recently bought the Ambient Lightning Bronzer in the shade Radiant Bronze Light and the Ambient Lightning Blush in the shade Dim Infusion. This combination has become my go2 for an easy everyday makeup look. It blends so effortlessly, looks fresh and it lasts all day.
These are definitely more investment products, but I don't mind spending a bit extra because the quality is amazing and their products does last a very long time. I've been using it almost daily and it's not even made a dent yet.
Urban Decay | Cruelty-Free and some Vegan Products
The Naked Palette Cherry Eyeshadow – I was lucky enough to receive this gorgeous palette from 2 wonderful friends for my birthday this year! Such a beautiful selection of colors. The palette offers a variety of mattes and metallics making it perfect for day and evening looks
All Nighter Makeup Setting Spray (Vegan) – Great product that will keep your makeup looking flawless all day or night. Perfect to use when you have a long day or an event where you need your makeup to last.
IT Cosmetics | Cruelty-Free
I use the Your Skin But Better CC+ Cream as a foundation and my skin loves it. It's hydrating, applies smoothly, it's buildable and it makes the skin appear pretty flawless. You only need a small amount, so this will last you a long time. I've bought my first one in November and I've just finished it.
They also have a travel size available that's a great option if you first want to test it on your skin. I got one the other day that I will take on holiday with me this summer.
Davines | Cruelty-Free
I've been using Davines for a few years now. It was introduced to me by my hairstylist in South-Africa. It's the only brand that he uses, and I've been hooked ever since. The smell of the OI range is just amazing! Their products are also sulfate and paraben-free.
My favorite products to use from Davines:
Oi All in one Milk – I spray it on my towel dried hair. Great for detangling and it's also a heat protector.
Oi Oil – Great for styling your hair or sometimes I put it on my towel dried hair and then just leave it to dry.
Shimmer Mist – adds a natural shine to your hair and makes it look fresh.
Becca | Cruelty-Free
My favorite product from Becca is the Under Eye Brightening Corrector. This product is a game changer in my opinion. It brightens up the under eye, (if you're a mom or if you have long working hours you'll benefit from this one) hides those dark circles and instantly makes you look more awake. I use the light to medium shade, it's also available in medium to dark.
I also have my eye on the Shimmering Skin Perfector Liquid Highlighter. Saving up to hopefully buy it soon.
Isle of Paradise | 100% Vegan, Cruelty-Free and Organic
I'm a newbie when it comes to self-tanning products. I've never tried any before but when I read all good reviews about the Isle of Paradise Self Tanning Drops I decided to finally give it a go. It's a big yes from me, just remember to wash your hands haha I totally forgot and ended up with orange hands for a day or 2.
It's so easy to use, you just add a few drops to your body lotion, give it a good mix in your hands and apply it. I also add 2 drops to my face moisturizer. It makes me look so healthy and gives me a glow without having to sit in the sun for hours. It doesn't smell funny, it is streak free and you can decide how tanned you want to go depending on the amount of drops you apply. I use the Medium shade but they also have it available in Light and Dark.
Listing a few more skin care and makeup brands that are cruelty-free:
Lush, Essence, Too Faced, The Body Shop, Milk Makeup, Drunk Elephant, Herbivore, OUAI Haircare, Sand and Sky, Rosental Organics, The Beauty Blender, Charlotte Tillbury, EOS, Pixi, Elf, Dermalogica and Bareminerals.
I hope you enjoyed this post and that it inspired you to consider adding more animal cruelty -free products to your makeup and skincare routine.
I've linked all products above in the LiketoKnowit app that you can download for free. You can check out my LiketoKnowit profile here or you can also find the link in my bio on my Instagram page @lanesekemp.
Thank you so much for taking the time to read.
Lots of Love
Lanese
https://lifeinthesouth.co/wp-content/uploads/2019/07/IMG_2180r.jpg
1325
1000
Mariza Ebersohn
https://lifeinthesouth.co/wp-content/uploads/2022/04/Life-in-the-South-Final-Logo-Grey-HD-1.png
Mariza Ebersohn
2019-07-05 10:55:37
2022-04-20 11:00:57
Top Cruelty free Make up products