These velvety cinnamon buns are just absolutely divine! Thanks to Cheers SA the vegan alternatives to your favorite recipes are so much easier.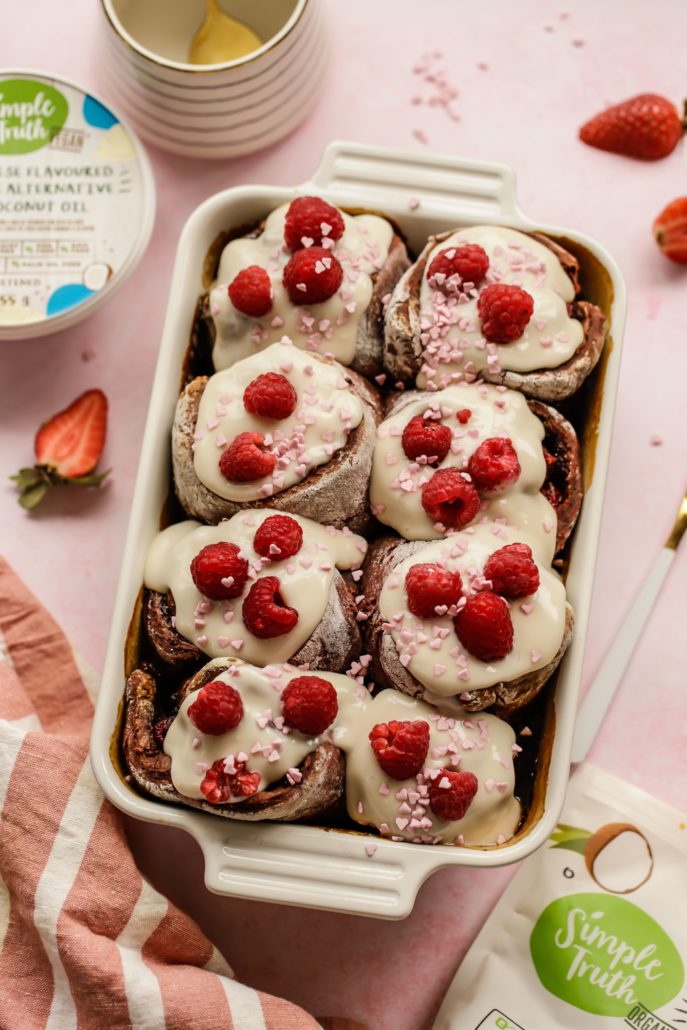 3 ½ cups all-purpose flour
1/2 cup rye flour
¼ cup coconut sugar
2 tbsp cocoa powder
1 package instant yeast (1 package = 2 ¼ tsp)
1 teaspoon salt
1 ½ cups nondairy milk lukewarm
1 tablespoon vanilla extract
2-3 tsp vegan red food colouring (or 2 tablespoon beet powder)
* ¼ cup vegan butter, or margarine room temperature
For the Filling
½ cup vegan butter, room temperature
¾ cup coconut sugar
1 ½ tablespoon cinnamon
1 cup fresh raspberries
For the Vegan Cream Cheese Frosting
1 tub Simple truth vegan cream cheese
⅛ teaspoon salt
¾ teaspoon vanilla extract
2 cups icing sugar
Raspberries
Method
1. In a large bowl or a stand mixer, combine 3 cups flour, rye flour, sugar, cocoa powder, yeast, and salt.
2. Turn the stand mixer to low and add in the non-dairy milk, vanilla, and food coloring.
3. Add in the vegan butter and let go for 5-7 minutes, adding in the remaining flour if needed to not be sticky and form a ball. Mix by hand if you don't have a stand mixer.
4. Once ball is formed, grease the same bowl mixed in and place the dough ball back into the bowl. 
5. Cover with a towel or plastic wrap and place in a warm place until double in size.
6. Once dough is doubled in size, pull out the dough and lay it out on a lightly floured surface.  
7. Using a rolling pin, roll dough into an approximately 30x 15 cm rectangle that is 1 cm thick.  
8. For the filling – smear a generous layer on to the cinnamon roll, sprinkle over the sugar, raspberries slightly smashed.
9. Carefully roll cinnamon rolls into log from the longest side up. One completely rolled, place seam side down. Cut into 12 even sized pieces.
10. Place into a greased baking dish and cover to rise for 45-60 minutes or until cinnamon rolls have risen.
11. Preheat to 180 degrees Celsius.
12. Once heated, place dish inside and bake in oven for 30-35 minutes.
13. Cream together the frosting and then add a generous scoop on to the lukewarm cinnamon buns and some raspberries on top. Serve slightly warm and gooey.
https://lifeinthesouth.co/wp-content/uploads/2023/02/MG_4123-scaled.jpg
2560
1707
Mariza Ebersohn
https://lifeinthesouth.co/wp-content/uploads/2022/04/Life-in-the-South-Final-Logo-Grey-HD-1.png
Mariza Ebersohn
2023-02-12 14:56:07
2023-02-12 15:01:13
Red velvet raspberry cinnamon buns