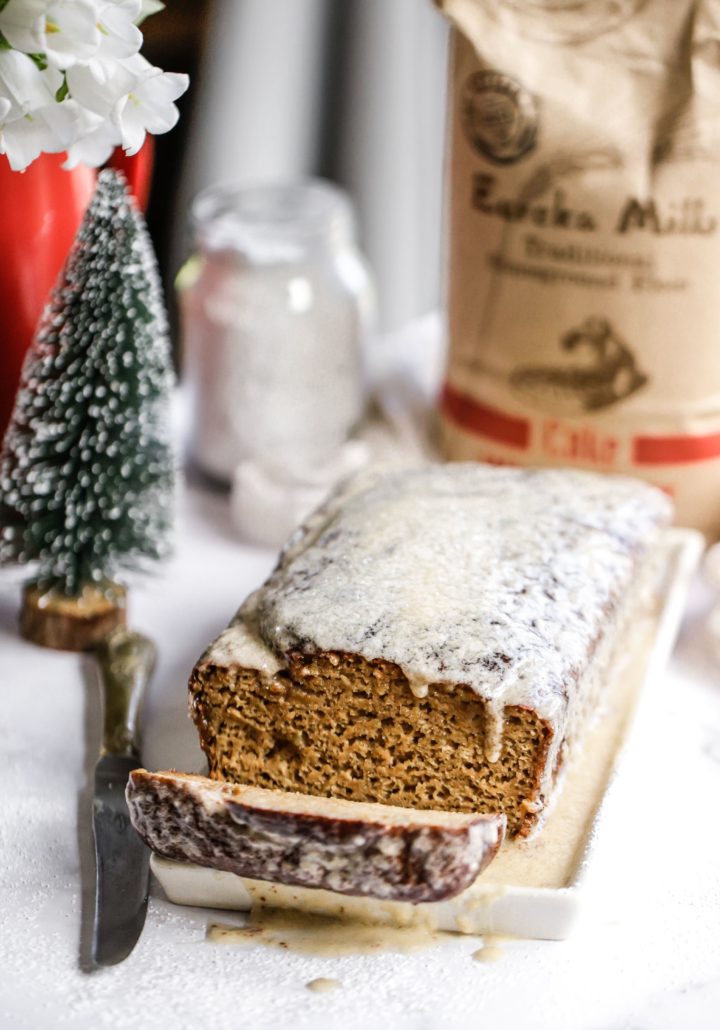 • 2 cups Eureka cake flour
• 1/3 cup coconut sugar
• 1 1/2 tsp ground ginger
• 1 tsp ground cinnamon
• 1/2 tsp cardamom
• 1/4 tsp allspice
• 1/4 tsp nutmeg
• 2 tsp baking powder
• 1 tsp baking soda
• 1 cup dairy-free milk, room temperature
• 1/2 cup golden syrup
• 1/2 cup unsweetened apple puree or coconut cream, room temperature
Frosting
• 100ml coconut cream
• 2 cups icing sugar
• 1/2 tsp vanilla extract
• Pinch of salt
1. Preheat the oven to 180 degrees Celsius and grease bread tin with olive or coconut oil.
2. In a medium bowl, whisk together flour, ginger, cinnamon, cardamom, allspice, nutmeg,
baking powder, and baking soda. Set aside.
3. Add in the remaining ingredients to a large bowl, and mix the wet ingredients with a hand
mixer or whisk. Then add in the dry ingredients, and gently mix until there are no streaks of dry
ingredients left using a silicone spatula.
4. Pour the batter into the prepared loaf tin, and place into the oven.
5. Bake for 45-50 minutes, or until the toothpick comes out clean.
6. Remove from the oven and allow the loaf to cool in the tin for 15 minutes, then transfer the
bread to a cooling rack to cool completely before slicing.
7. Serve as is or prepare the frosting.
8. Whisk together all of the frosting ingredients and pour over the bread and serve.
https://lifeinthesouth.co/wp-content/uploads/2022/12/MG_0294-scaled.jpg
2560
1788
Mariza Ebersohn
https://lifeinthesouth.co/wp-content/uploads/2022/04/Life-in-the-South-Final-Logo-Grey-HD-1.png
Mariza Ebersohn
2022-12-18 13:33:54
2022-12-20 11:31:28
Gingerbread loaf