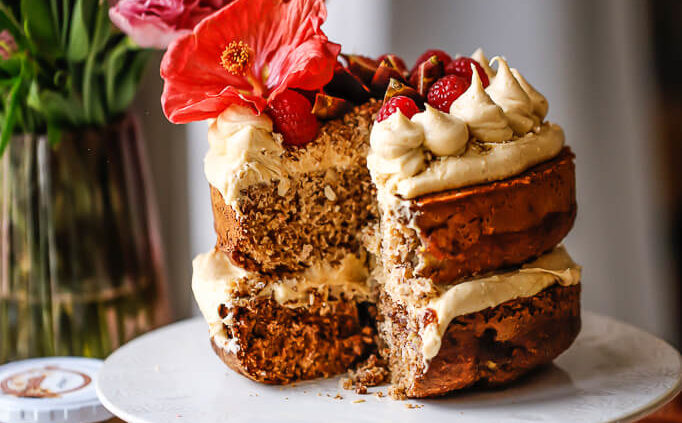 1 1/4 cups Buttanutt macadamia milk, room temperature 

2 tsp apple cider vinegar 

3 2/3 cups (460 grams) self rising flour  

1 tbsp ground cinnamon 

2 tsp baking powder 

1 tsp baking soda 

1 tsp cornstarch 

1/4 tsp sea salt 

1 cup white sugar 

1/4 cup coconut sugar or brown sugar 

3/4 cup margarine, room temperature 

1 1/2 cups super ripe banana, mashed (around 3 med bananas)  

1/2 cup coconut cream, room temperature 

1/4 cup Buttanutt macadamia cinnamon nut butter  

1 tbsp vanilla extract 
Macadamia buttercream Frosting:
1 cup margarine ,room temperature 

 1/3 cup Buttanutt macadamia cinnamon nut butter 

 

4 cups powdered sugar

 

1 tsp vanilla extract 

2–3 tbsp macadamia milk
Preheat the oven to 180 degrees Celsius. Spray two 29 cm cake pans with non-stick  spray, and line them with parchment paper. 

Prepare the vegan buttermilk. Combine the dairy free milk with the apple cider vinegar, and  set aside to sit for 5-6 minutes. You can weigh and measure the remaining ingredients during  this time, including mashing the banana.  

In a medium bowl, whisk together the flour, cinnamon, baking powder, baking soda, corn  starch, and salt. Set aside. 

In a large bowl, cream together the margarine, sugar, and coconut sugar until fluffy, about 2-3  minutes. Scrape down the sides as needed. Then add in the banana, macadamia cinnamon  nut butter , coconut cream, and vanilla extract. Mix again on medium speed until combined,  scraping down the sides and at the bottom of the bowl as needed. Add in about half of the dry  mixture, along with half of the vegan buttermilk, and mix on medium speed until just  combined. Add in the remaining dry mixture and vegan buttermilk, and mix until there are just  no more dry streaks. 

Divide the batter between the two cake pans evenly, and bake for 40 minutes until the  toothpick comes out clean. 

Remove from the oven and allow the cakes to cool in their pans for 10 minutes, then  transfer them to a cooling rack to cool completely

.

Once cooled completely (there is  absolutely no warmth to the touch!), then you can prepare your vegan macadamia frosting  frosting. 
Macadamia buttercream frosting  
When ready to frost the cakes, add the margarine and nut butter to a large bowl and cream

for 2-3 minutes.

Add in 1 cup of powdered sugar at a time, continuing  mixing until it's a thick

b

uttercream.

Add in vanilla and 2-4 tablespoons of macadamia milk and continue to cream until desired

texture.

4.

Frost cakes, decorate with fresh fruit & flowers and enjoy!
https://lifeinthesouth.co/wp-content/uploads/2022/04/MG_4520.jpg
1023
682
Mariza Ebersohn
https://lifeinthesouth.co/wp-content/uploads/2022/04/Life-in-the-South-Final-Logo-Grey-HD-1.png
Mariza Ebersohn
2022-04-30 12:01:14
2022-04-30 12:07:08
Banana macadamia buttercream cake