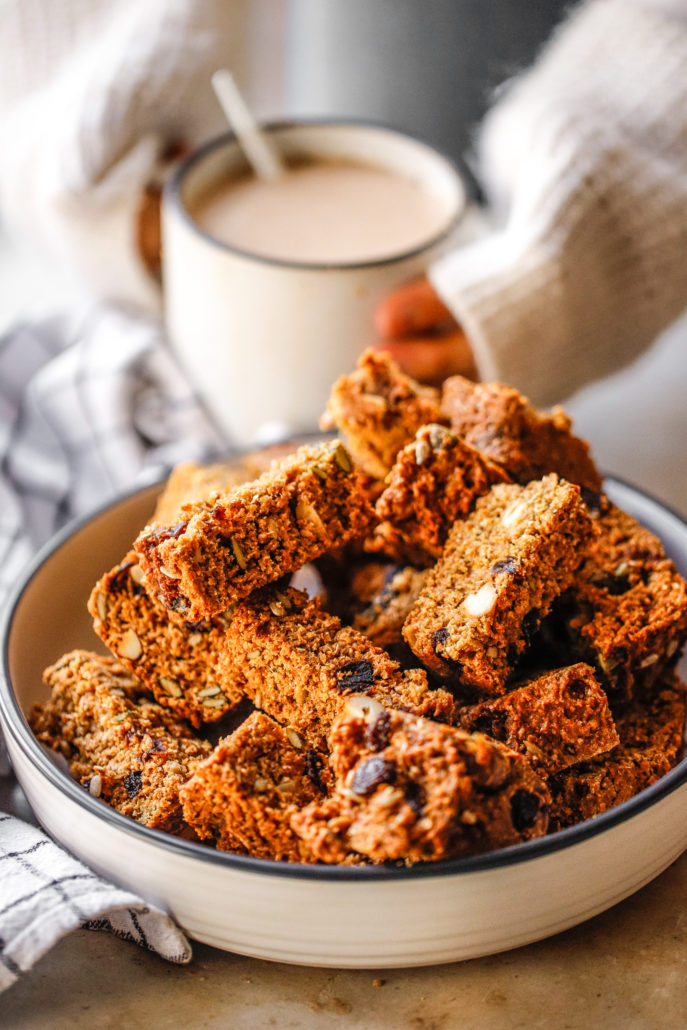 Recipe
Ingredients
Wet
3 cups brown sugar
1/3 cup flax seed flour mixed with equal amounts of water
1 cup margarine melted
1 tbsp apple cider vinegar
500ml soy milk
Dry
1 kg self rising flour
5 cups bran
3 tsp baking powder
1 tsp salt
Extra add in's
1 cup mixed seeds
1 cup roasted almonds
1 cup chopped dates
1/2 cup shredded coconut
Method
1. Preheat the oven to 180 degrees Celsius.
2. In a big mixing bowl add the flour, bran, baking powder, salt, and extra add in's.
3. In another bowl add the wet ingredients, sugar and let it curdle for 5 minutes before adding
in to the dry ingredients.
4. Mix everything well with a spatula, making sure the extra add in's are well incorporated.
5. Scoop into two bread tins, sprinkle on more seeds and sugar, and bake for 40-45 minutes
until brown.
6. Once cooked, remove to cool in the bread pans, remove and slice into fingers, and place on baking trays to dry out in the oven for 3/4 hours at 110 degrees Celsius.
7. Store in sealed jars or holders in a dry place for up to three weeks.


Hope you love this recipe, rusks are such a favorite of ours;)
M
https://lifeinthesouth.co/wp-content/uploads/2022/09/MG_8687-scaled.jpg
2560
1707
Mariza Ebersohn
https://lifeinthesouth.co/wp-content/uploads/2022/04/Life-in-the-South-Final-Logo-Grey-HD-1.png
Mariza Ebersohn
2022-09-18 11:09:48
2022-09-18 11:38:18
Almond date seed rusks